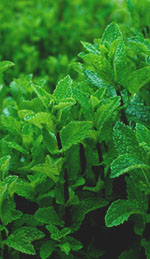 Many people suffer from headaches and migraines, and these conditions can be more than troublesome or aggravating; often, these conditions become debilitating. Tension headaches and sinus headaches can be extremely painful and significantly diminish a person's quality of life. Migraines, when severe, can completely put a person's life on hold. Migraine symptoms such as nausea, light sensitivity, and a relentless headache can seriously, negatively impact an individual's professional and personal life. If you are a headache or migraine sufferer, you may want to consider a natural treatment remedy such as peppermint oil.
If you currently use over-the-counter or prescription medications to treat headaches and migraines, you may be exposing yourself to harmful chemicals. The chemicals in these medications can cause future health problems. Aromatherapy oils, such as peppermint or lavender, can naturally provide headache and migraine relief without potentially harmful long-term effects.
Peppermint oil can be massaged into the forehead, back of the jaw, and temples, and users will experience a cooling sensation on contact. Within 30 minutes, individuals should feel relief from their headache or migraine. Everyone's sensitivity levels are different, but peppermint oil can be slightly irritating to the skin. It is recommended to use this oil on a patch of skin first to test for any adverse reactions. If no adverse reactions occur, the oil should be safe to use topically for the effective treatment of headaches and migraines.
Some people can be sensitized to topical use of peppermint oil, showing a slight rash from frequently using the straight oil undiluted. If you find that topical use of the oil helps your headache or migraine, but causes a slight skin irritation, then you can still use the oil diluted in a carrier oil like jojoba or olive oil to keep your skin protected.